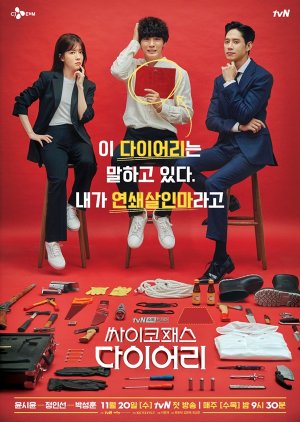 Plot Synopsis by AsianWiki Staff ©
Yook Dong-Sik (
Yoon Si-Yoon
) works at a brokerage company. He has a timid personality and he can't even get angry at the people who look down upon him. One day, he witnesses a murder. He accidentally picks up a diary belonging to killer, who is a serial murderer. The diary has a log of his murders. Yook Dong-Sik flees with the diary, but he is accidentally hit by Police Officer Sim Bo-Kyung's (
Jung In-Sun
) car. Yook Dong-Sik loses his memory because of the accident. Due to the diary in his possession, Yook Dong-Sik mistakenly believes he is a serial killer. Since that moment, he begins to change. Sim Bo-Kyung, who got involved with Yook Dong-Sik, decides to catch the serial killer.
Meanwhile, Seo In-Woo (
Park Sung-Hoon
) works as director at the brokerage company where Yook Dong-Sik works. He is heartless and a psychopath serial killer. He has lost the diary in which he detailed his crimes. He now feels insecure.
Index Episode - Psychopath Diary [싸이코패스 다이어리] - Sub English